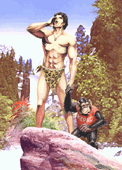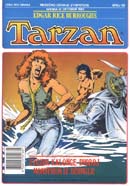 clic on image
for larger size
TARZAN
Script: Slavko Dragincic, Svetozar Obradovic,Bane Kerac, Dragana Stankovic, Dusan Vukojev... Ink/Pencil: Branko Plavsic, Sibin Slavkovic, Goran Djukic, Marinko Lebovic, Pavel Koza...
Leaving "Dnevnik" for coming to "Marketprint" Bane got rid of the nightmare called "Blek The Rock". In fact, the first two episodes "The Wild Cat" and "The Broken Heart" , where Bane could express himself were pleasure, but the rest, where he was obliged to draw "Captain Mickey like" covers and to listen to some uneducated editors instructions...horror! Anyway, drawing of Tarzan seemed as salvation. However, the first excitement did not last long. The sterile Tarzan's character (doesn't drink, doesn't smoke, even doesn't fuck), limited by 26 hypocritical rules did not match Bane' s spiritis. Literaly, Tarzan had been worked as any other simple job, at the method "as much you pay, that much you get", meaning the the ordered got something he couldn't complain about. The only exception is five episodes long story "The Kalonga Star" which is, as a mater of fact, Cobra episode. In that story, Bane had maliciously gave an episode role to Tarzan and gave to Cobra and Cindy (so callled Bob and Mindy) to move through the exceptional mileu Pal-Ul-Done, in the terrific creation of Russ Manning. A few more titles deserve the attention ( Tarzan and Barbarians,The Tiger, The Boy from the Stars...) while everything else is an average thing, for the poor ones who don' t read Conan. Besides Yugoslavia, "Marketprint" episodes of Tarzan were published in Sweden,Norway, Germany, Netherlands and Danmark.
Nevertheless, Tarzan got the media popularity to Bane. During those 6-7 years, Bane had more interviews for TV, radio and the press than in any other period in his career.Even today, all those who don' t know much about comics, know Bane for Tarzan, not for Cat Claw. Never heard of it! "Tarzan" is the longest serial in the history of Yugoslav comics. In the period from 1983 to 1989, more than a hundred episodes were made, and Bane took part in about 60, either like the script maker, or like a penciler, inker, and the complete author. Knowing that each episode consisted of 16 pages (another stupid limitation), the total score comes to almost thousand of pages. It would have been worth if Bane had invested all that effort to some serious comic, wouldn't it?